Disclaimer:  This site is not affiliated with the National Hurricane Center, Hurricane Hunters, Storm Prediction Center, or National Weather Service.  ALL forecasts herein are the result of my analysis, and I am solely responsible for the content.  As ALWAYS, follow the National Hurricane Center, National Weather Service, and your local Emergency Management officials for emergency decisions.  In addition, this is strictly a FORECAST OFFICE.  I CANNOT make decisions regarding travel plans, etc.  My purpose, is to provide you the information, based solely on information I analyze, and the accuracy of the information at hand of the time of analysis, so you may make informed decisions.
(T. F. "Storm" Walsh)
For those who have donated to my site, your help has been greatly appreciated.  If you are not aware, donations to my site help pay for subscriptions to sites I use as well as software updates, which provide all the models and information used in my forecasts.  To donate, please click the DONATE button to the right side of the page, or on the graphic of the dog.  Any help you provide is immensely appreciated! 
DONATIONS ACCEPTED AND APPRECIATED

Please be aware, even though I do not post every night, rest assured I am continuously monitoring various areas for any significant weather.  I will be taking Sundays off (family time), unless we have active systems that may be posing a threat (i.e. Tropical, Winter Weather, Coastal Storms, etc.).
STORM WALSH PRE-SEASON FORECAST
TOTAL NAMED STORMS: 17 – 20
TOTAL HURRICANES :        7 – 9
MAJOR HURRICANES:       4 – 5
AVERAGE HURRICANE SEASON:
TOTAL NAMED STORMS: 14
TOTAL HURRICANES:         7
MAJOR HURRICANES:       3
2021 SEASON TOTALS:
TOTAL NAMED STORMS:  21
TOTAL HURRICANES:          7
MAJOR HURRICANES:        4
TOTAL U. S. LANDFALLS:    8
The following is the list of storm names for the 2021 Atlantic Hurricane Season:
Ana Bill Claudette Danny Elsa Fred Grace Henri Ida Julian Kate Larry
Mindy Nicholas Odette Peter Rose Sam Teresa Victor Wanda
The following is the supplemental list for the 2021 hurricane season:
Adria, Braylen, Caridad, Deshawn, Emery, Foster, Gemma, Heath, Isla, Jacobus, Kenzie, Lucio, Makayla, Nolan, Orlanda, Pax, Ronin, Sophie, Tayshaun, Viviana, and Will.
As a storm becomes named, I will be marking it in bold red to keep track of the activity for this Atlantic season.
Please note…when we are dealing with multiple systems, they will be listed in order as to the greatest threat to land or the U. S. , to the least threat.
Good evening everyone,
Just wanted to check in, with a brief report on now STS (Sub-Tropical Storm) WANDA.  I'm sure most of you will agree, in that it appears the NHC has had naming issues this season, and I'm sure you've noticed some of the systems I've spoken of, that appeared to not meet the criteria to be named either tropical or sub-tropical.  I don't have the exact number, as I don't save the graphics and environmental analysis information.  However, if memory serves me right, I believe the total of systems that probably shouldn't have been named is around 4.  This would place us at 17 total for the season.  Based on earlier satellite loop imagery, and the 06Z Surface Analysis map from the TAFB, I feel the NHC jumped the gun in naming WANDA.  The 06Z surface analysis map clearly shows a stationary front north of the center, passing through the system, and decaying cold front south of the center.  Based again on NHC criteria, this system should not have been named at that time, or prior.
NHC 06Z SURFACE ANALYSIS MAP

 
Analysis of recent satellite loop imagery and 12Z Surface Analysis map, seems to indciate that the storm may be breaking away from the frontal entity, and satellite imagery seems to indciate that the storm may NOW, be in the process of becoming sub-tropical.  You'll note the frontal boundary further north, and the decaying cold front now a trof.  The current shear map indicates the system is within a trof axis, hence with the features mentioned, is more of a baroclinic entity, but is receiving some heat energy from the sea surface, as denoted by SST's of 25 Deg, Celsius, and AMSU data indicating the system is now fully warm core.  Hence, in my opinion, seems to be transitioning to fully sub-tropical.  Again, I DID disagree earlier this morning on "WANDA" becoming named prior to the current ongoing process.
NHC 12Z SURFACE ANALYSIS


WANDA SATELLITE LOOP IMAGERY


AMSU CORE PROFILE (RED LINE IS APPROXIMATION OF STORM CENTER)


CIMSS SST ANALYSIS


From the NWS:
It is often difficult to tell from looking at forecast model data whether a low that is expected to develop near the U.S. coast will be tropical, subtropical, or extratropical. The difference is important, since tropical systems have the potential to quickly grow into hurricanes, while extratropical or subtropical storms do not. So, here's a quick meteorology lesson on the normal progression one sees from extratropical cyclone, to subtropical cyclone, to tropical cyclone.
1) An extratropical cyclone forms. Extratropical cyclones have cold air at their core, and derive their energy from the release of potential energy when cold and warm air masses interact. These storms always have one or more fronts connected to them, and can occur over land or ocean. An extratropical cyclone can have winds as weak as a tropical depression, or as strong as a hurricane. Examples of extratropical cyclones include blizzards, Nor'easters, and the ordinary low pressure systems that give the continents at mid-latitudes much of their precipitation.
2) If the waters under the extratropical cyclone are at least 21C (70F), thunderstorm activity will gradually build inside the storm and moisten and warm the lower levels. Over time, the core of the storm may gradually go from cold to warm, and the storm will start getting some of its energy from "latent heat", which is the energy released when water vapor that has evaporated from warm ocean waters condenses into liquid water. Latent heat is what powers tropical cyclones. At this point, the storm is called subtropical. If the winds are already more than 39 mph (as happened in the case 2007's Subtropical Storm Andrea), it is called a subtropical storm. If the winds are less than 39 mph, then it is called a subtropical depression. So, you don't need to start with a subtropical depression in order to get a subtropical storm.
A subtropical storm typically has a large, cloud free center of circulation, with very heavy thunderstorm activity in a band removed at least 100 miles from the center. The difference between a subtropical storm and a tropical storm is not that important as far as the winds they can generate, but tropical storms generate more rain. There is no such thing as a subtropical hurricane. If a subtropical storm intensifies enough to have hurricane force winds, than it must have become fully tropical. The definition of a subtropical storm, according to the National Hurricane Center: A non-frontal low pressure system that has characteristics of both tropical and extratropical cyclones.

Tropical Cyclone definition from the NHC:
Tropical Cyclone:A warm-core non-frontal synoptic-scale cyclone, originating over tropical or subtropical waters, with organized deep convection and a closed surface wind circulation about a well-defined center. Once formed, a tropical cyclone is maintained by the extraction of heat energy from the ocean at high temperature and heat export at the low temperatures of the upper troposphere. In this they differ from extratropical cyclones, which derive their energy from horizontal temperature contrasts in the atmosphere (baroclinic effects).
Now you can appreciate some of my frustration when we see some of the systems that get named that look  the way they do.  This will be my final post on WANDA

The following map will allow to to get information from your NWS office.
NWS WATCH / WARNING DISPLAY (LINKED…CLICK MAP, THEN YOUR AREA)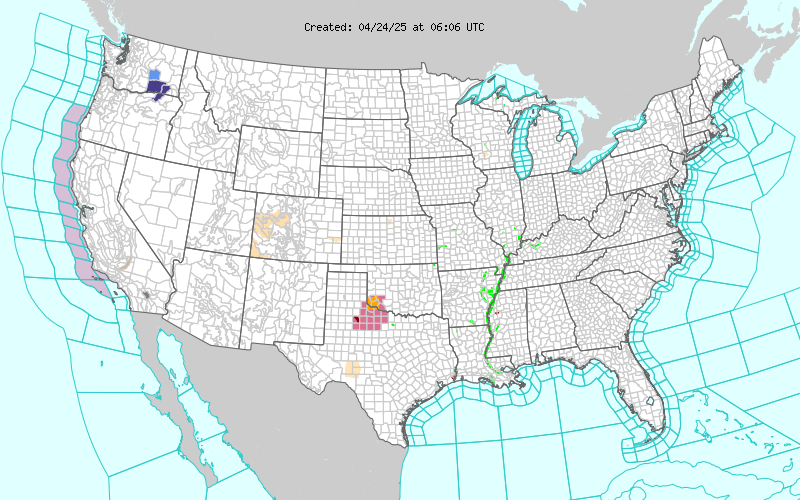 WSI DOPPLER RADAR LOOP (LINKED, CLICK RADAR MAP)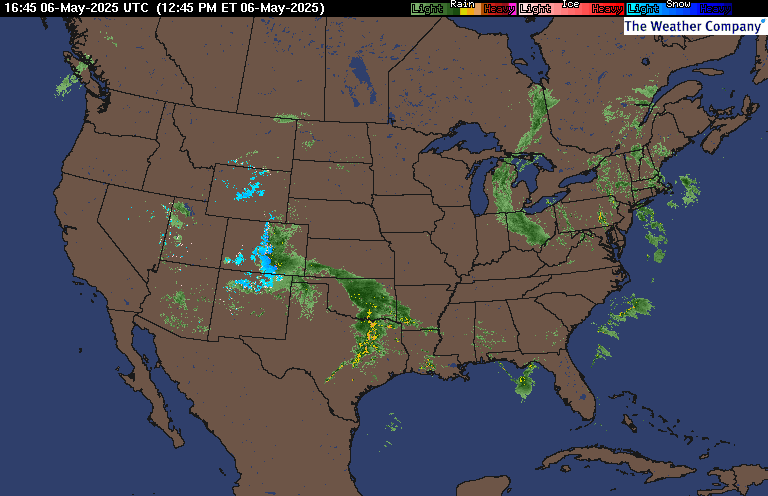 RAP RADAR (CLICK IMAGE THEN RADAR SITE…ONCE YOU CLICK THE SITE, GO TO LOOP DURATION TO CREATE A LOOP)
You may direct any questions by contacting me personally, ANYTIME, at: [email protected]
Have a blessed evening!
T. F. "STORM" WALSH III
GMCS, USCG (ret)
METEOROLOGIST / HURRICANE SPECIALIST /SEVERE WEATHER SPECIALIST