More shine? Less frizz? Amazing texture? At goop, we want those benefits whether or not we blow-dry, flatiron, pile on styling products, or get chemical services to change our hair texture. "The same way I'd rather use great skin care versus a ton of makeup," says GP, "I want my hair to look and feel healthier, even without all the styling tricks."
Hair color, heat styling, and even hormones can dramatically change the way your hair looks and feels—and we wanted our hair back. We wanted an easy fix with instant results that worked for every hair type and texture.
The fix: a new preshampoo glow serum treatment that smooths damage, frizz, dryness, and split ends and adds noticeable shine and texture that last until your next shampoo. "It's kind of a miracle on my hair," says GP. "I leave it in for twenty minutes before I shampoo, and the results last until I shampoo again—I don't know how it does it, but it's amazing."
She'd wanted a serum for a while. "I bleach my hair, obviously," she says. "Especially after I started working out with Tracy Anderson—really sweating, pulling my hair up in a ponytail, and everything that goes with that—I started getting breakage. My solution was to put in conditioner beforehand, like a heat and conditioning treatment. But it was a bad idea—all this conditioner with all the chemicals dripping down onto my face. I wanted a serum, one that would sink in and make a noticeable difference. And what the team came up with is a game changer."
Clinically proven to deliver results, the new GOOPGLOW Restore + Shine Hair Serum is made with made with cuticle-sealing vitamin C, omega-rich sea buckthorn oil, moisturizing squalane, and shine-boosting plumeria monoi oil, plus macadamia, castor, sesame, and sunflower oils to address all signs of hair damage, from overprocessing and frizz to dryness and split ends. And while you'll notice a change in your hair the first time you try it, repeated use pays off in additional shine, smoothness, and great texture.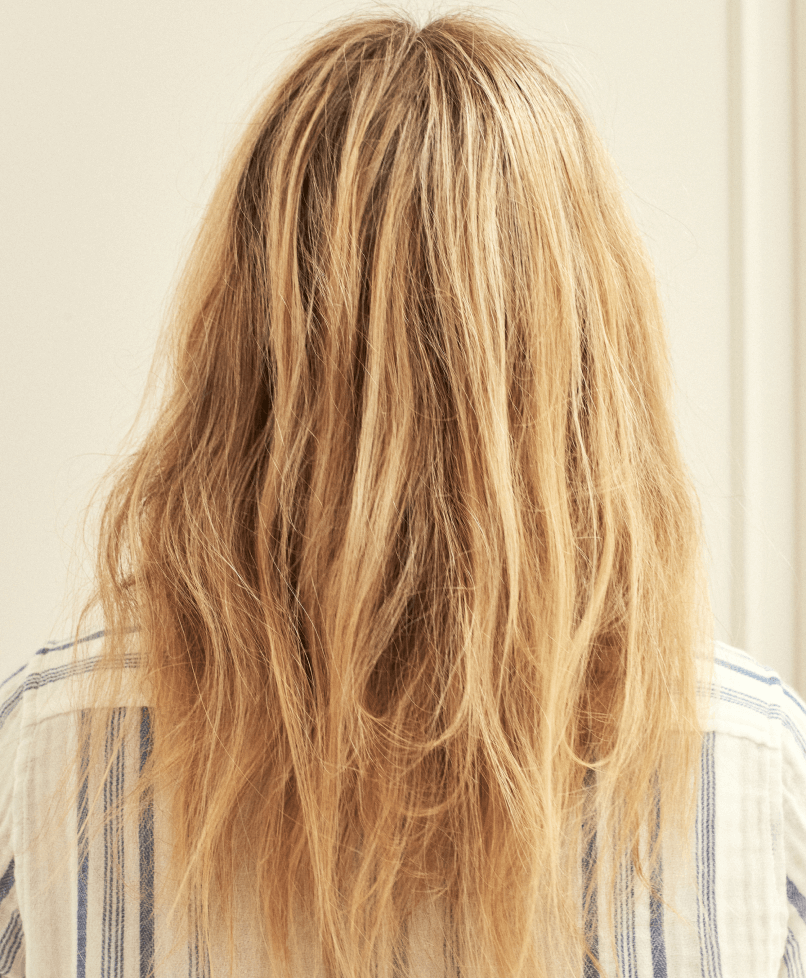 BEFORE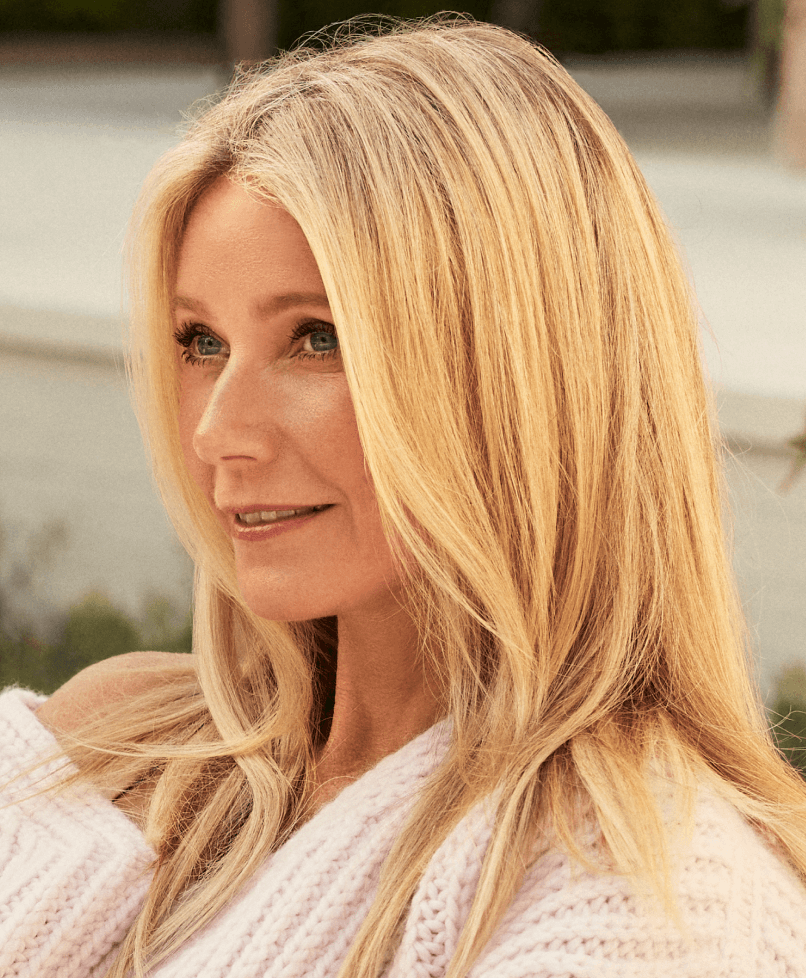 AFTER
GP's New Hair Routine
What's great about the serum is you simply add it in to your routine as a first step—a foundation for shiny, healthy-looking hair. You can do it every shampoo or every few, depending on your hair. GP, whose hair has some damage and some frizz, likes to use it every shampoo. "Before I work out or do an infrared sauna, I shake up the serum and part my still-dry hair into two sections," she says. "I smooth a dropperful of serum (how much you use depends on your hair type and length—mine needs a lot) between my hands and run it through my hair from root to tip, focusing on my ends, where there's the most damage."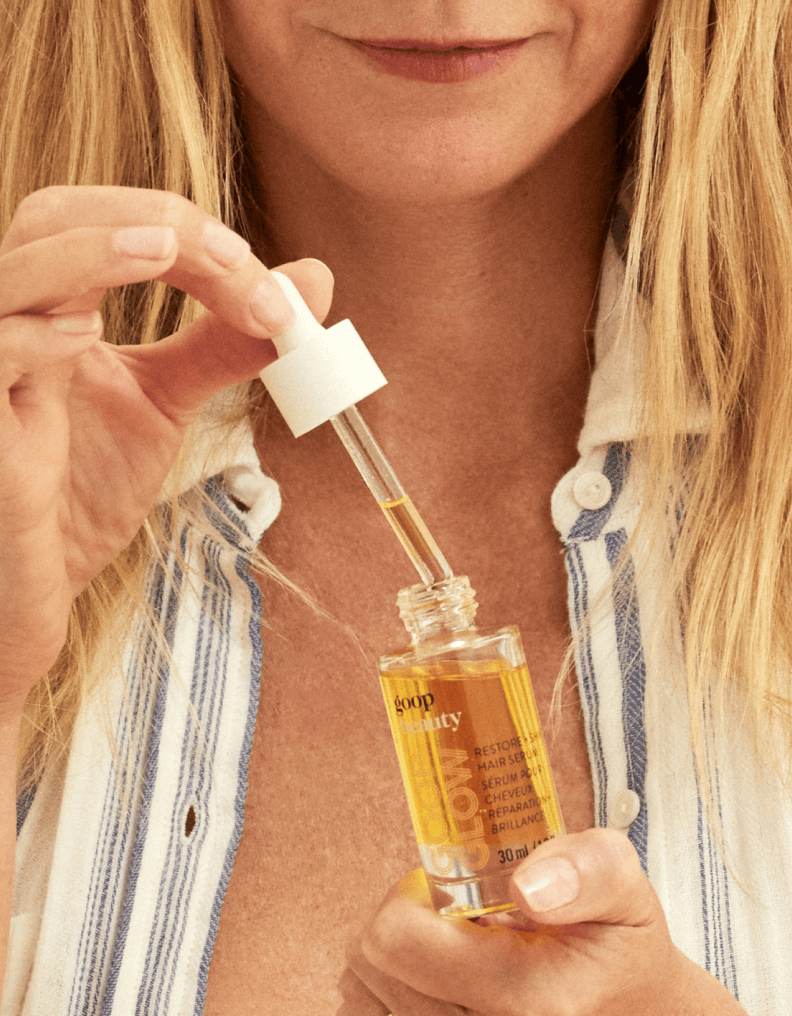 "I put it up in a ponytail with a Slip silk tie, which further protects against breakage, and then the heat of exercising or sweating in the sauna, for me, makes it into this super efficient beauty and wellness treatment. It works in just twenty minutes, though, so it can be quick and easy if you don't have time for a workout!"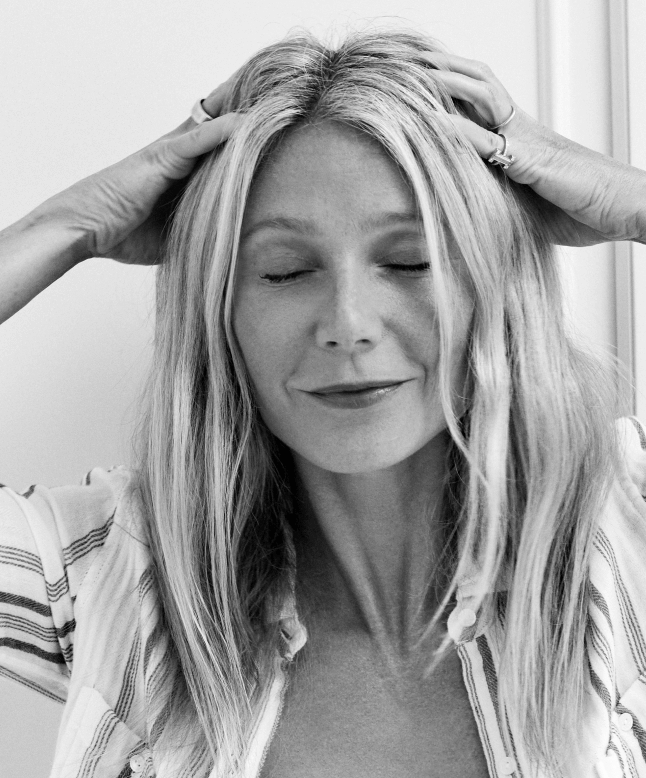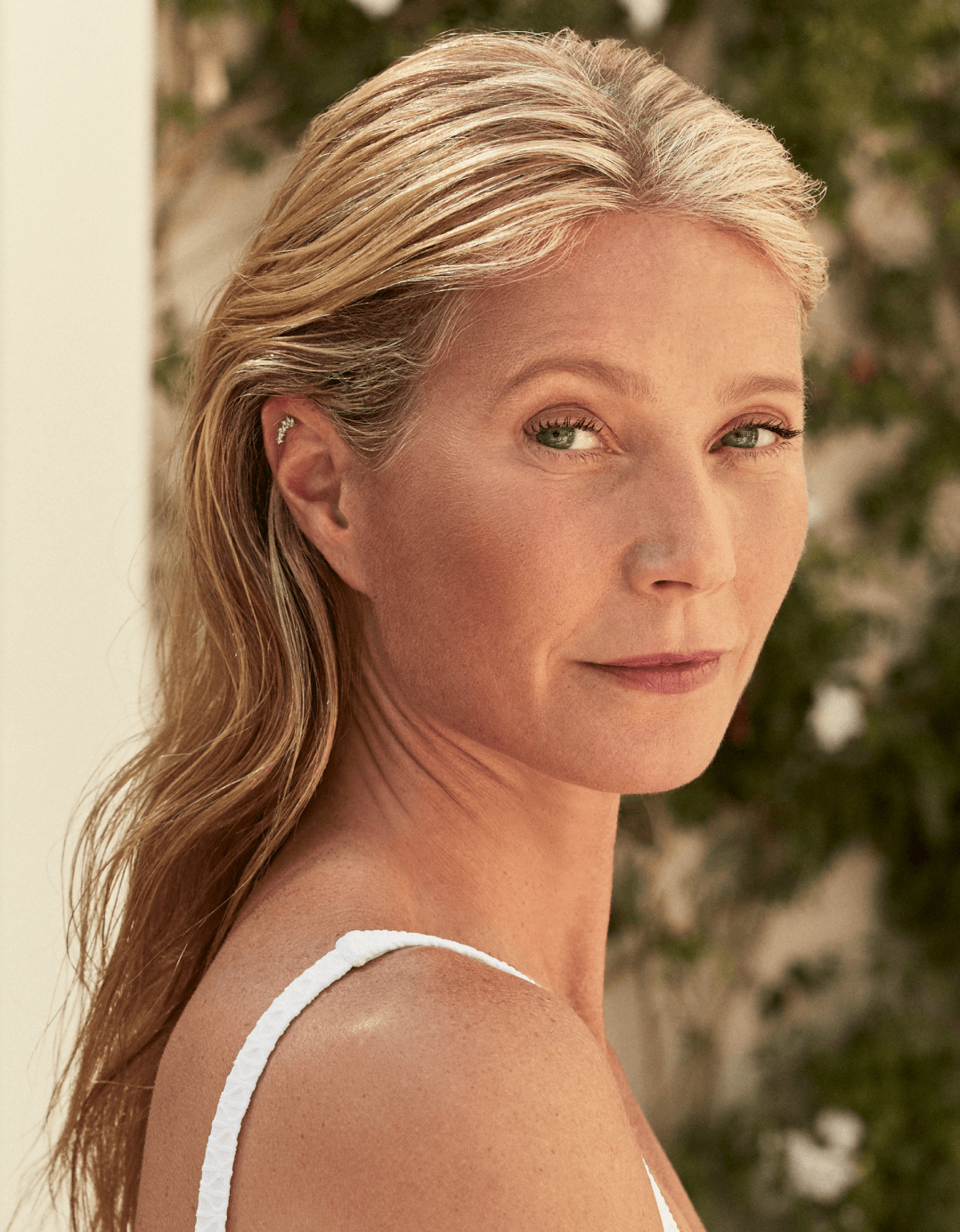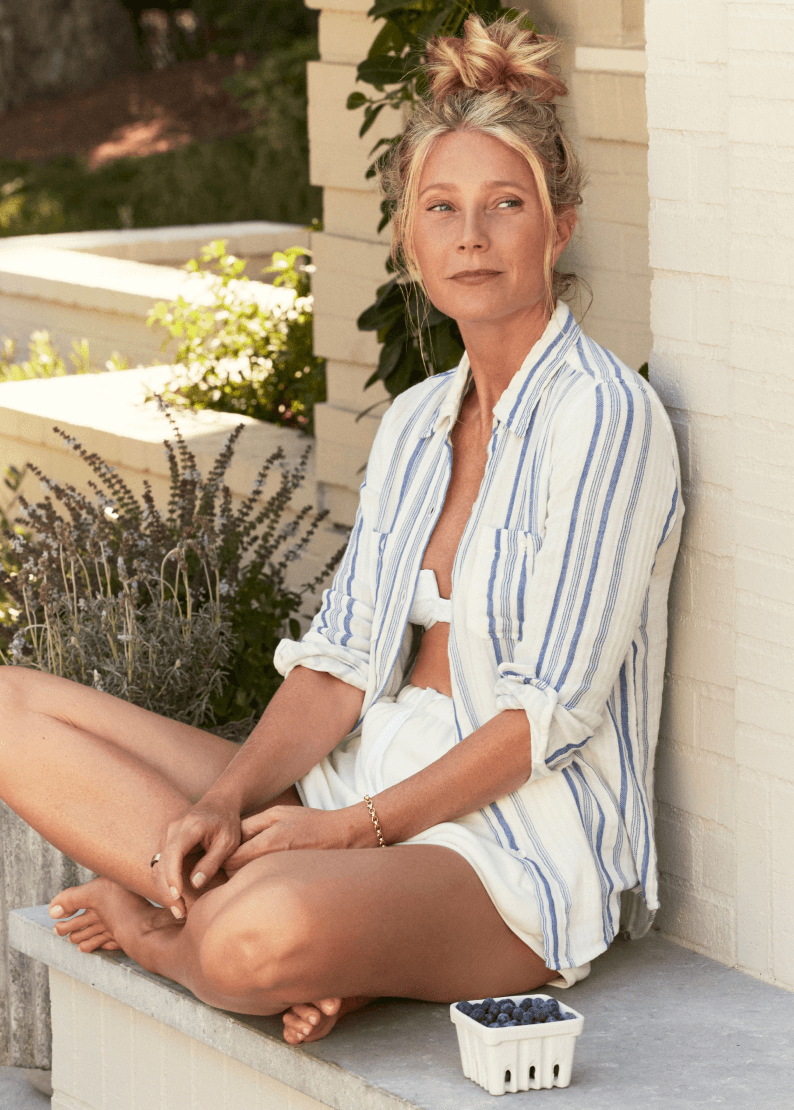 "I shampoo with the goop salt scrub twice a week, and when I do that, I use the Crown Affair mask as conditioner—I'm obsessed with it," says GP. "It's one of those products you can't believe are clean. Or I do a lighter shampoo and conditioner—Innersense is fantastic. I also take Viviscal every day."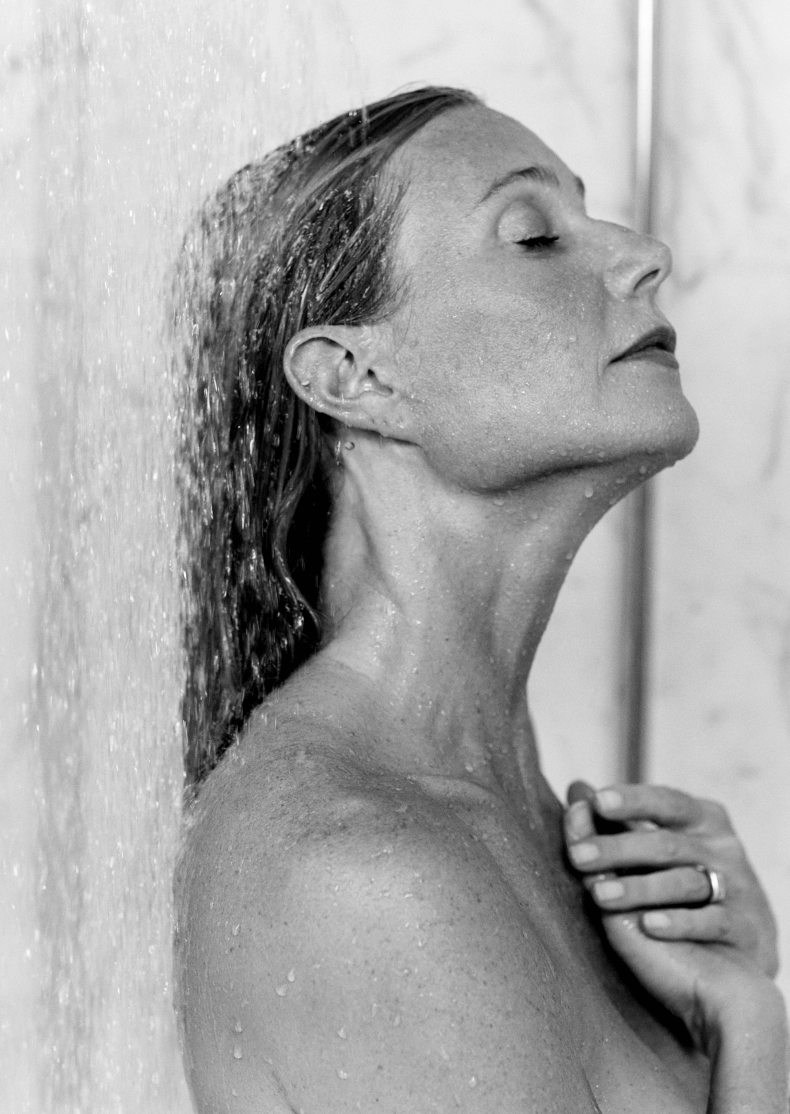 "I get out of the shower and wrap up my hair in an extra-absorbent hair towel for minute (I don't like to leave it on for too long), then put a little of the Crown Affair serum as a finisher on my ends and comb it through," she says. "I really never have time to blow-dry. If I have a meeting, I take my semiwet hair and twist it to one side and that's my look. As it dries, it's shiny, with this great softness—healthy vibes."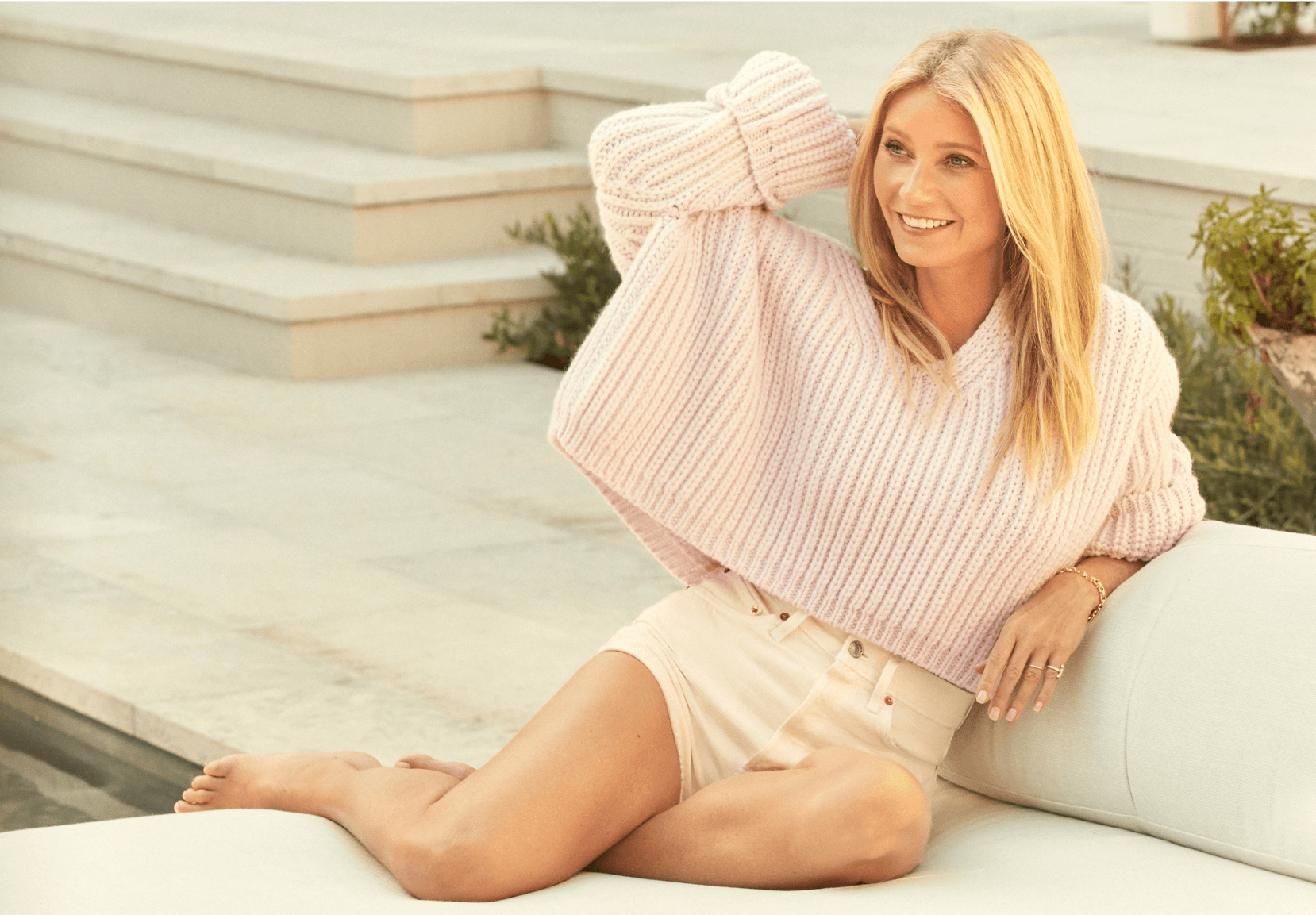 The goop Beauty Department Before and After the Serum
As soon as the serum was ready, the beauty department got some advance samples. Senior beauty editor Megan O'Neill is thirty-six, with gorgeous, really curly, textured hair, and she just had a baby. Brianna Peters, our associate beauty editor, just turned thirty and has straight, colored hair with lots of highlights. Beauty director Jean Godfrey-June is fifty-seven, with wavy hair that she colors, and her texture's starting to change in a way she isn't into—the top is frizzier and coarser than it used to be. But despite their wildly different hair types, all three editors saw significant results after trying the serum.
Megan loves soft, artfully bedhead-ish curls. "My kinky texture tends to be dry, brittle, and prone to frizz," she says. "But the serum—it's so moisturizing—smooths my thicket of coils into silky spirals. My mom, a woman who doles out praise very sparingly, sounded as if she'd been paid by goop when I emerged from my bedroom one morning: 'What are you doing to your hair these days? It's stupendous.' The serum gives me soft, floaty, perfectly mussed curls."
She uses the serum about once a week. "I like to take a two-minute midday break from hunching over my laptop to massage it in from roots to ends—about a dropper and a half does the trick. I let it sink in as I finish the workday. I shampoo (with Rahua's super moisturizing shampoo) and condition (with faintly rose-scented Sangre de Fruta) that night before bed and twist my hair into a few little braids around my head for extra-lush texture. In the morning and for the remainder of the week, my mess of curls is shinier, bouncier, and more haphazardly beachy than ever. I just freakin' love this stuff."
Jean, who'd always been pretty happy with her hair, had recently been noticing more frizz, coarser texture, and less fabulousness. "As you get older, it turns out that your texture can change—my colorist Marie Robinson broke the news to me about a month ago (coloring also contributes, but that is extra, on top of the change from getting older)," she says. "It's like your second-day hair suddenly looks messy instead of cool. And all I can say is: If this texture change sounds at all familiar, try the serum! It gave me back my hair—shine, waves, smooth texture, easy feeling. My hair used to be the one thing I could count on, and now I can count on it again. And weirdly, for me the effect lasts for two shampoos."
"I do my routine with it every two or three shampoos," Jean says. "I smooth in the serum from the top of my hair—not exactly the roots, a little farther out—to my ends and go for a run, do a yoga class, or jump in the sauna my boyfriend built during the pandemic. After twenty minutes, I shampoo and condition with Grown Alchemist's Nourishing line, which I cannot rave enough about. I spritz the ends with the genius leave-in conditioner from Rahua, then brush it through with the Manta brush—and that's it. I wait for my hair to dry—and it does its former magic trick of styling itself. The serum has truly restored my hair, full stop."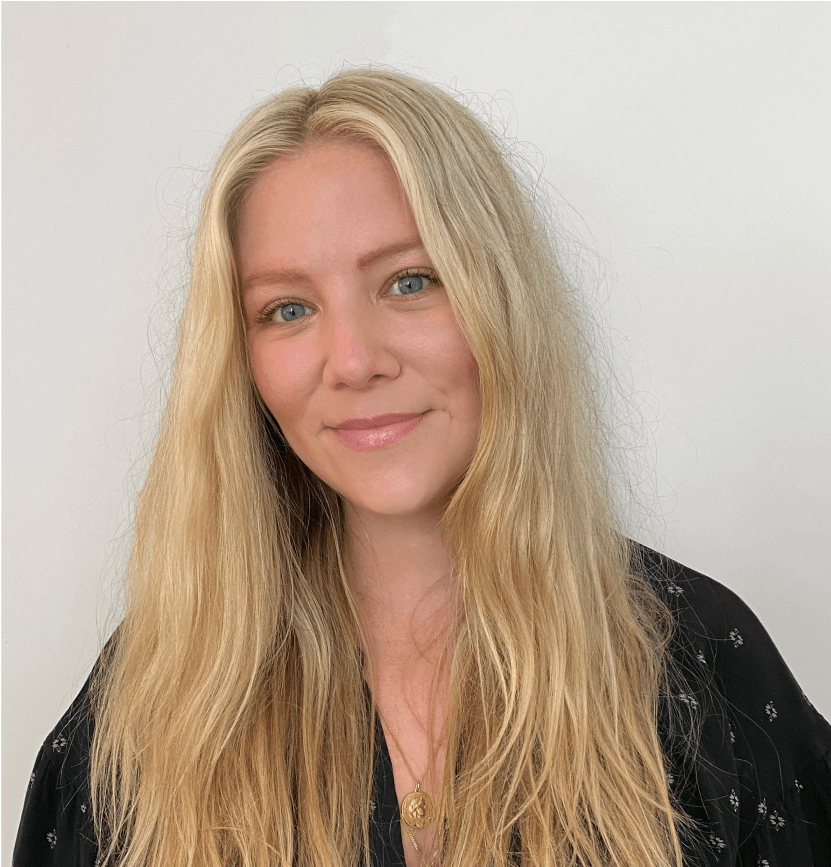 BEFORE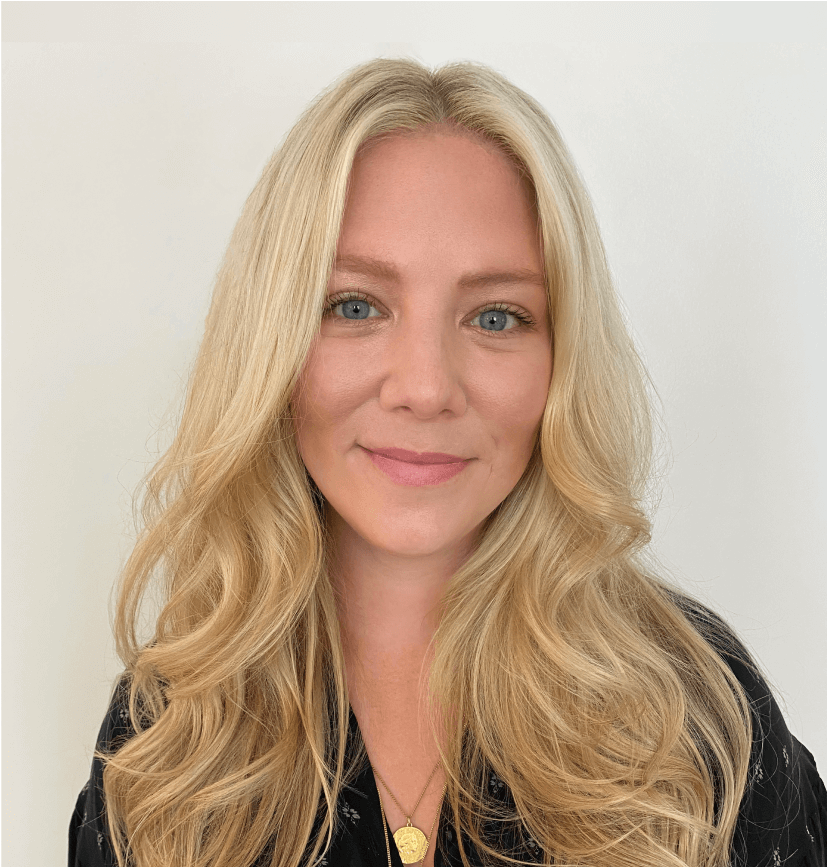 AFTER
"I've highlighted my hair since I was sixteen, so it's dry and brittle, almost like straw," says Brianna. "But this serum gives me shampoo-commercial hair: Silky and super shiny, and it feels healthier than ever before. The next day, I couldn't believe how good my hair still looked—usually I have to restyle it and load up on the dry shampoo, but somehow, my hair was even better than the day before. (I even got compliments from coworkers.) Since then, I've been using the serum two or three times a week: I massage two dropperfuls into my hair from roots to ends. Once it's in, I put my hair up with a Deborah Pagani pin (so pretty and so easy!) and take my puppy for her usual morning walk. Once I'm back, I shower, shampoo with Rahua's color-treatment shampoo, condition with the most amazing-smelling Sangre de Fruta conditioner, brush it out, and style. (I love the new GAMA blow-dryer—it dries my hair in record time, and it's incredibly lightweight, so it's easier to hold while I give myself a blowout.)"