Click to view enlarged version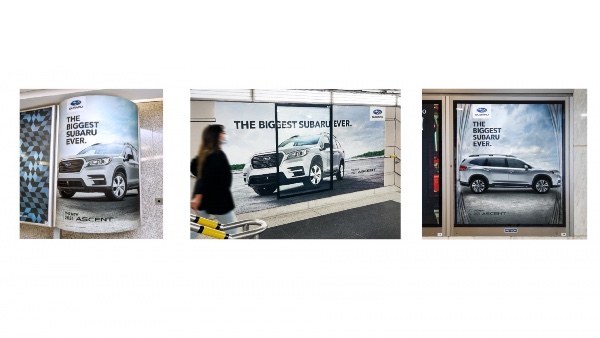 Click to view enlarged version. Image by Zulu Alpha Kilo via Ads of the World
Subaru's largest vehicle ever, the 2021 Ascent, gets a worthy advertising campaign in the form of posters too big, they exceed their allocated media space.
The larger-than-life activation, produced by creative agency Zulu Alpha Kilo for Subaru Canada, colors out of the lines to illustrate the SUV's roomy, three-row interior. For example, one poster is forcibly curved to touch the ends of its lot.
Another boldly goes out of its frame and takes over the wall, while a third poster manages to keep within its space after being folded at the sides.
With more than enough legroom for seven to eight people, the 2021 Ascent deserves to be shown off in a big and brazen manner, and this is definitely the way to do it.
[via LBB and Ads of the World, images by Zulu Alpha Kilo via Ads of the World]