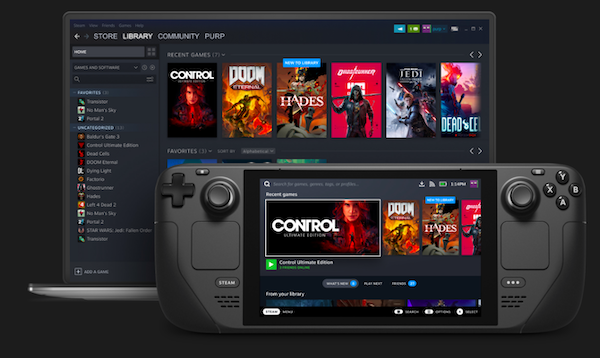 Image via Steam Deck
PC gaming falls right into your hands with Valve's newly announced Steam Deck, a handheld, portable device that can play any game in your Steam games library.
The Steam Deck boasts a custom APU, created in partnership with AMD, and is touted as a "Zen 2 + RDNA 2 powerhouse." Its abilities ensure power more than sufficient to enjoy a hiccup-free experience of the latest AAA games.
The device comes with a seven-inch touchscreen, two trackpads that can be customized and mapped, thumbsticks with built-in touch sensors, and gyro capabilities, to name a few. It may only have a single USB-C jack, but don't underestimate it: it can be used for charging, peripherals, or projecting onto larger screen.
In terms of software, Steam features that users have come to expect will all make an appearance in the new Deck. Things like the Steam chat, remote play, accessing the community, and cloud saves are all promised in the software, too.
Gaming isn't all, though: the Steam Deck is essentially a smaller, more portable PC that can install apps and software. "Use your Deck as a PC. Because it is one," the website instructs. It defaults to a new version of the Linux-based SteamOS, but given its capabilities, but really, you could just install Windows onto it instead. "Browse the web, watch streaming video, do your normal productivity stuff, install some other game stores, whatever."
Pricing depends on storage, starting at US$399 for 64GB, US$529 for 256GB, and US$649 for 512GB. However, users can increase the storage capacities for all three using a microSD card.
The Steam Deck is available to reserve now. And it starts shipping this December, but only to the US, Canada, Europe, and the UK. It's planned to be released in more regions in 2022 though, so sit tight for that.
[via IGN, image via Steam Deck]