morag myerscough continues her exploration of immersive color with the 'endless ribbon connecting us' in coventry, UK. the vibrant installation, realized together with coventry city council and creative giants, breathes new life into one of the city's major public spaces. the artist introduces the work as part of a major creative regeneration program ahead of the 'city centre south scheme.' coventry has just been named city of culture for 2021, and morag myerscough celebrates the news with the dramatic and atmospheric piece along the canopy of hertford street, transforming the space with the bold simplicity of light and color.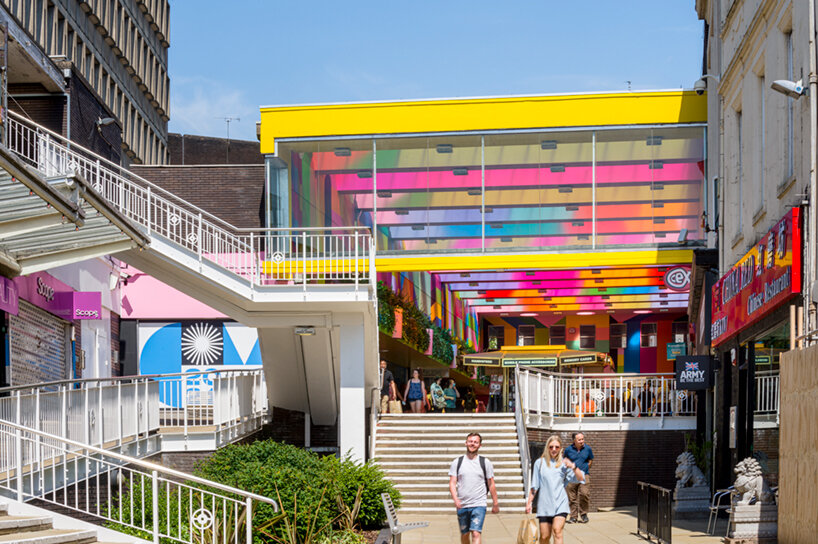 images by gareth gardner
with 'endless ribbon connecting us,' morag myerscough takes inspiration from the city's coventry cathedral and looks deeper into its cultural history and heritage. during her exploration and research, the artist was taken by the stained-glass window by john piper and patrick reyntiens. the ribbon weaving industry dominated the city from the early 1700s to the 1860s. the artwork wraps around the inside of the building in the form of a continuous ribbon with no start or finish. morag myerscough's use of color and natural light aim to uplift a place where even with gloomy skies, the colors radiate down a warm glow.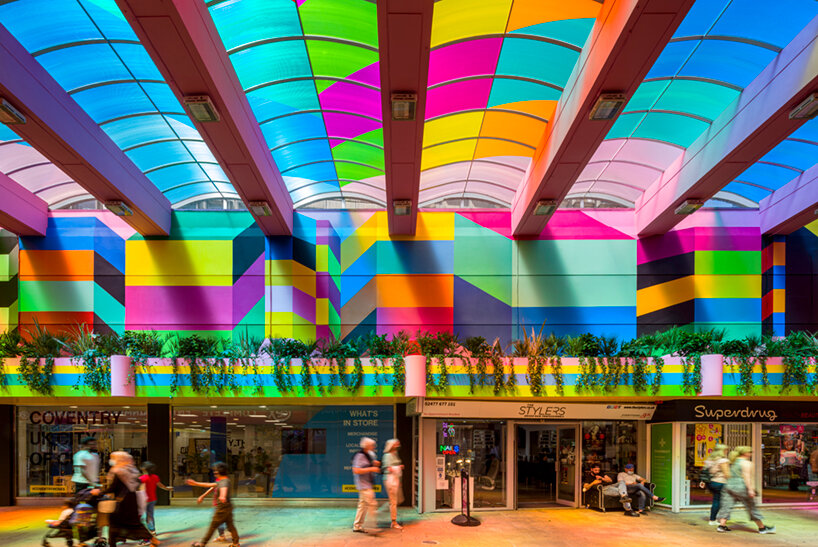 morag myerscough comments on her newly completed 'endless ribbon' installation: 'I experienced a desire for colour in the city and I wanted to get it in the streets. plus the simplicity of light and colour is always so magical in every location. community is at the heart of every project I do. we wanted to change perceptions of space by transforming the canopy walkway with fresh bold colour and an abundance of plants. working with the food traders and surrounding shops, together we wanted to make a new destination for everyone that brings joy to an area that needed some love.'