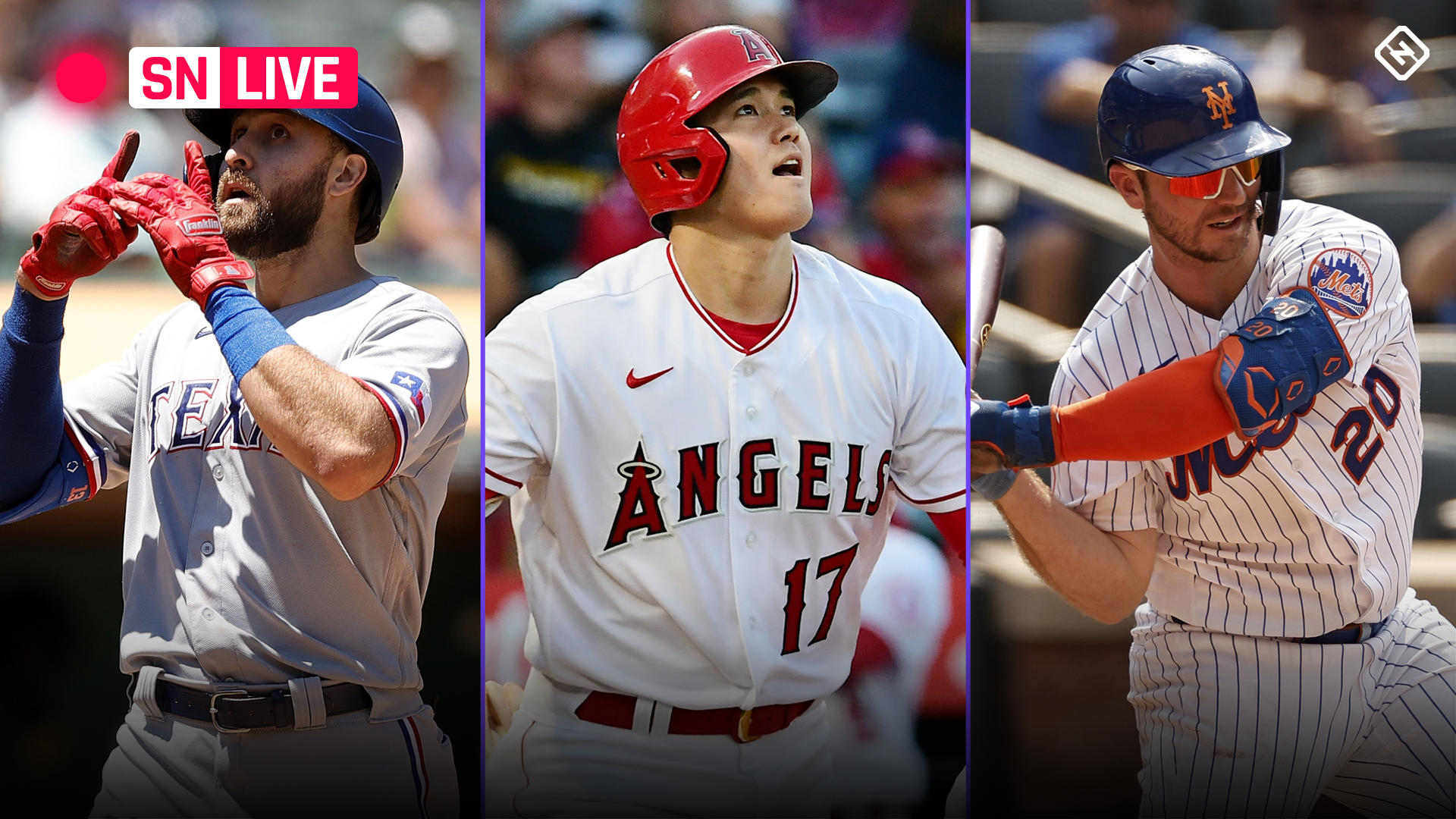 Get ready to see some big time home runs. Back after a hiatus in 2020 due to the COVID-19 pandemic, the Home Run Derby returns in 2021 in one of the most hitter-friendly ballparks in baseball with some of the game's best power hitters set to take their hacks.
Of course, all eyes will be on Angels star Shohei Ohtani, who has launched 16 long balls since June 15 to take the MLB lead with 33 homers. No other player in the league has more than 28. There's also the hometown hitter in Rockies shortstop Trevor Story and the reigning champion in Mets first baseman Pete Alonso. Both players are looking to have some historic wins — only three times has the winner of the derby been from the local team, and only twice has a batter repeated as the winner.
Fans will also watch Orioles first baseman Trey Mancini continue his sensational comeback season after beating cancer last year, along with Royals catcher Salvador Perez, who is hoping to become the first backstop to win the event, and 22-year-old Nationals phenom Juan Soto, who will try to be the youngest winner. They'll contend with AL West sluggers Joey Gallo of the Rangers and Matt Olson of the Athletics, who have each hit the most home runs of any batter in the field since 2017.
Sporting News is tracking live updates of the Home Run Derby throughout the night.
MORE: Watch the Home Run Derby live with fuboTV (7-day free trial)
Home Run Derby live updates, highlights from 2021 contest
9:08 p.m.: Perez hits five straight for a home run, but with 1:44 left, he takes a timeout at only nine home runs. He's got a long way to go to catch the Polar Bear. 
9:06 p.m.: Alonso's 35 home runs were a record for the first round of a derby. This format is a minute shorter than last year. 
9:05 p.m.: Pete. Alonso. 35 home runs in the first round. Royals catcher Salvador Perez has a massive mountain to climb if he's going to be the first catcher to win the Home Run Derby. 
9:02 p.m.: Alonso is now up to two home runs over 510 as he hits another 514 feet. He's averaging 455 feet per home runs and he hit 25 before he reaches his minute of extra time. 
9:00 p.m.: Pete Alonso destroyed those baseballs. One went 512 feet and another over 490 feet. He takes a timeout with 13 home runs. 
8:58 p.m.: The reigning champ is up. He's already clubbed two in the first 15 seconds. 
8:55 p.m.: Story will face Mancini in the second round of the Home Run Derby. 
8:52 p.m.: Gallo goes on a run in his extra minute, but he falls one home run short at 19. 40 percent of his swings left the yard.
8:50 p.m.: The Rangers slugger will need nine to tie Story with a minute of extra time to swing. 
8:49 p.m.: Gallo earns the extra minute of time for him, but he has yet to reach double-digit totals with under a minute to go. 
8:47 p.m.: Gallo calls a timeout with 1:44 left. He's up to four so far. He's already hit one more than 475 feet, but he'll need to find his rhythm to catch Story at 20. 
8:46 p.m.: There aren't many players with the kind of raw power Gallo has. He's got one through the first 30 seconds. 
8:43 p.m.: The Rockies shortstop hits 20 long balls. Now, it's time for Joey Gallo. 
8:41 p.m.: Story will get an extra minute of bonus time. He's racked up 16 home runs and most of those were crushed. 
8:39 p.m.: Story takes his timeout. Longest home run for him went 518 feet. 
.@Tstory2's 518 ft homer is the longest tracked in the #HRDerby by Statcast, passing Aaron Judge (513 ft) in 2017.

— MLB Stats (@MLBStats) July 13, 2021
8:38 p.m.: Wondering what happened to that fan that made the incredible catch on Olson's home run? Sporting News' Ryan Fagan caught up with the fan who made the grab. 
8:37 p.m.: The hometown hitter is up to plate and he's already electrifying the crowd. He's sending some home runs a long way. 
8:35 p.m.: Mancini is moving on to the second round after putting on a show early. 
8:33 p.m.: What would have been home run No. 24 sailed just to the right of the foul pole and is a foul ball. Mancini will advance to the next round with 24 homers to Olson's 23. 
8:32 p.m.: Olson is now up to 22. 10 seconds left. 
8:31 p.m.: Olson will have a minute to catch Mancini. He needs seven to force a swing-off and eight to take the lead outright. 
8:28 p.m.: The A's first baseman isn't moving at a particularly fast rate, but he's making the most of his swings, hitting homers on 59 percent of his swings. He takes a timeout with 10 homers clobbered already. His longest so far is 472 feet and he has already earned his bonus time. 
8:27 p.m.: Matt Olson is starting up. 
8:25 p.m.: Mancini uses his extra minute of time to send 24 baseballs over the fence. His longest home run was 496 feet, according to the broadcast. What a start to this derby. Now, it's up to Matt Olson to top that. 
8:24 p.m.: First swing back is a home run. Now he's got another one to make it 21 homers total. 
8:22 p.m.: The timeout really did the trick for Mancini. He hits 58 percent of his swings for home runs and finishes with 19 homers. Four of them went at least 475 feet, which means he'll get an extra minute of bonus time.  
8:21 p.m.: Mancini is spraying these all over the field. He's on a roll right now, running a streak up to five straight homers to reach 14 long balls. 
8:20 p.m.: Mancini hits his third and fourth on the second and third swings back from the timeout. He's looking comfortable now. 
8:19 p.m.: Mancini uses his timeout 53 seconds into his round. He'll get a 30-second break in the action. 
8:18 p.m.: And we are underway. Mancini is quickly off to two home runs already. 
8:13 p.m.: This year, the format will be changed. There will be three-minute at-bats instead of four minutes in the past. 
8:02 p.m.: Think this guy is ready for the derby?
8:00 p.m.: It is time for the Home Run Derby. Without the use of a humidor at Coors Field, expect to see some home runs hit a long way. 
MORE: Explaining the Home Run Derby rules
Home Run Derby bracket 2021
Round 1 results
Shohei Ohtani vs. Juan Soto
| Seed | Batter | HR total |
| --- | --- | --- |
| 1 | Shohei Ohtani | — |
| 8 | Juan Soto | — |
Salvador Perez vs. Pete Alonso
| Seed | Batter | HR total |
| --- | --- | --- |
| 4 | Salvador Perez | — |
| 5 | Pete Alonso | 35 |
Joey Gallo vs. Trevor Story
| Seed | Batter | HR total |
| --- | --- | --- |
| 2 | Joey Gallo | 19 |
| 7 | Trevor Story | 20 |
Matt Olson vs. Trey Mancini
| Seed | Batter | HR total |
| --- | --- | --- |
| 3 | Matt Olson | 23 |
| 6 | Trey Mancini | 24 |
Round 2
Trey Mancini vs. Trevor Story
| Seed | Batter | HR total |
| --- | --- | --- |
| 6 | Trey Mancini | — |
| 7 | Trevor Story | — |
What time is the Home Run Derby?
Coverage of the Home Run Derby starts at 7 p.m. ET on both ESPN and ESPN2 with "Baseball Tonight" and "Baseball Tonight, Statcast Edition," respectively. The derby itself will begin at 8 p.m. ET on the two channels, with ESPN carrying the traditional broadcast and ESPN2 providing the "Statcast Edition."
MLB All-Star schedule
Sunday, July 11
| Time (ET) | Event | Channel |
| --- | --- | --- |
| 3 p.m. | SiriusXM All-Star Futures Game | MLB Network |
| 7 p.m. | Start of MLB Draft (first round, comp picks) | ESPN |
Monday, July 12
| Time (ET) | Event | Channel |
| --- | --- | --- |
| 8 p.m. | T-Mobile Home Run Derby | ESPN |
| 10 p.m. | All-Star Celebrity Softball Game | ESPN |
Tuesday, July 13
| Time (ET) | Event | Channel |
| --- | --- | --- |
| 7 p.m. | MLB All-Star Game Presented by Mastercard | ESPN |