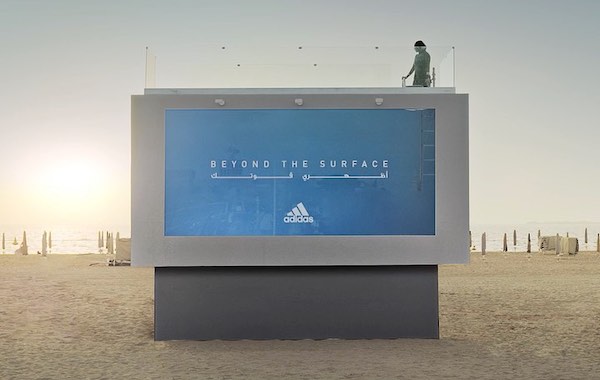 Video screenshot via Adidas MENA
To encourage acceptance and sports for all, Adidas swims deep into the conscience through the world's first liquid billboard. The meaningful activation, set up at one of Dubai's most-visited beaches, comes hand in hand with the sportswear giant dipping its toes into inclusive swimwear, including burkinis.
Featuring a transparent acrylic swimming pool holding 11,500 gallons of water, the interactive signage invites women to muster their confidence and dive in for a "public 'leap' of faith."
At a height of five meters (16 feet) and depth of three meters (9.84 feet), the massive billboard can carry 3,319 Adidas shoe boxes or water equivalent to almost 163 bathtubs. The billboard, envisioned by advertising agency Havas Middle East, took 32 people three weeks "around the clock" to erect.
It was created following an Adidas-commissioned YouGov survey that showed only 12% of women in the United Arab Emirates are completely at ease about donning a swimsuit at a public beach or pool. Respondents cited body shame and lack of privacy as the primary reasons for their being self-conscious.
"At Adidas, we believe that sport belongs to all. Through innovation, creativity, and collaboration, we introduce the world's First Ever Liquid Billboard, a concept that celebrates the power of water and its ability to defy restrictions, bring renewal and accept everyone unconditionally," the company expressed on social media.
"Our belief is that nobody should be prevented from enjoying the benefits of being in and around the water, hence the recent launch of our diversified product offering for all women and our Burkini Collection," noted Adidas GCC senior brand director Amrith Gopinath. "Each piece is also carefully crafted to ensure that additional fabric does not reduce a swimmer's ability to move in the water."
Taking first dips in the public pool were Adidas ambassadors Dareen Barbar and Raha Moharrak. Barbar is an amputee triathlete and Guinness World Records title holder, while Moharrak was named the first Saudi Arabian female to conquer Mount Everest.
Adidas Beyond The Surface in Dubai.

Live performances in a billboard, plus a shoot for other billboards, Instore and online usage. pic.twitter.com/omracMK60t

— Aquabatix (@Aquabatix1) July 1, 2021
[via The Drum, Forbes and Press Release Network, cover image via Adidas MENA]