virgil abloh continues his collaboration with AMO, OMA's research and design studio, to open off-white's new flagship store in paris. occupying a 19th century corner building two blocks away from place vendôme, the three story retail space is conceived as a meeting point of high-end and casual, parisian elegance and industrial rawness.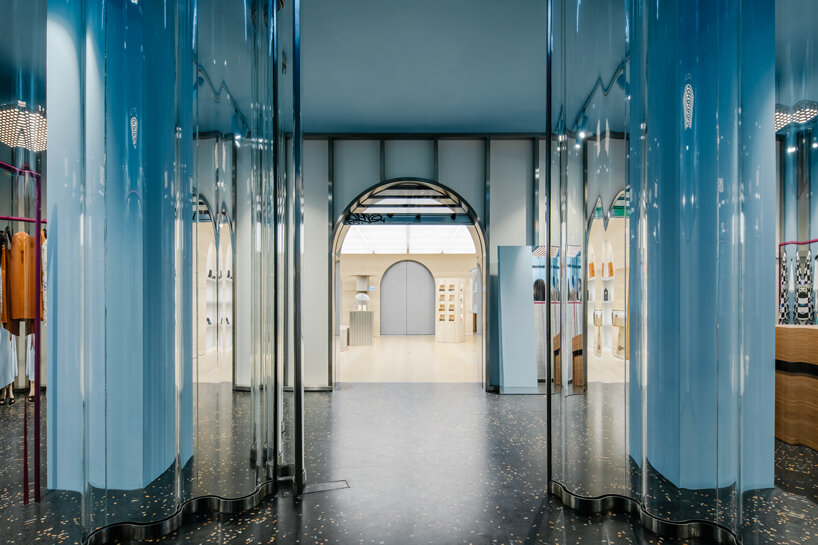 image by benoit florençon, courtesy OMA
'working with AMO is a synergistic process,' says virgil abloh, CEO of off-white. 'the way we ideate is similar – nothing is off limits – and the outcome at off-white paris is greater than I could have ever imagined.'
AMO's design unfolds over the three levels to reveal different spatial experiences, representing off-white's diverse identity and three typical parisian spaces: a courtyard, a gallery, and a market. the main entrance on rue de castiglione leads shoppers inside through a semi-circular vestibule of corrugated glass and into a reinterpretation of a parisian courtyard. the women's collection is housed here amid a restrained yet elegant backdrop of arched motifs and white travertine. designed to create a calm and slow shopping experience, it can also accommodate dynamic events such as fashion shows.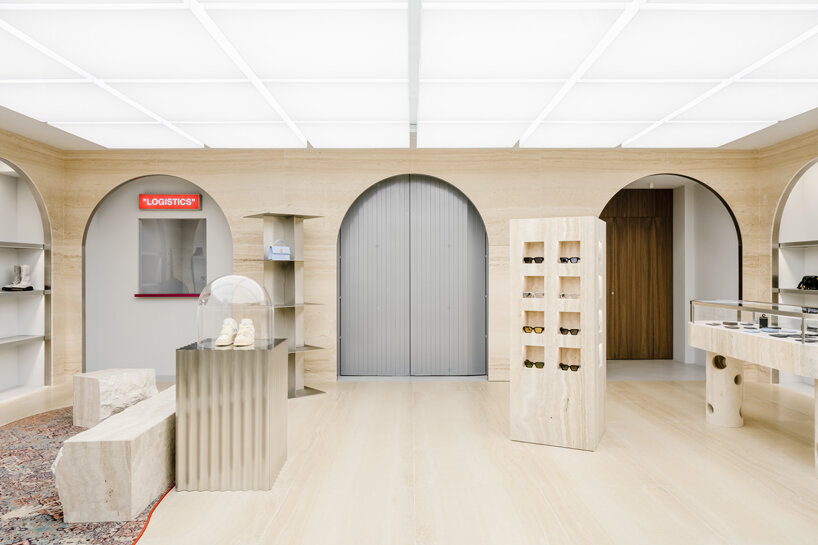 image by benoit florençon, courtesy OMA
the entrance on rue du mont thabor offers a very different atmosphere with light blue walls and a black terrazzo floor. this area of the store showcases off-white's brand partnerships on freestanding furniture designed by AMO. the second floor comprises the kids' and homeware collections as well as an exhibition wall in a more intimate space with low ceilings and small windows.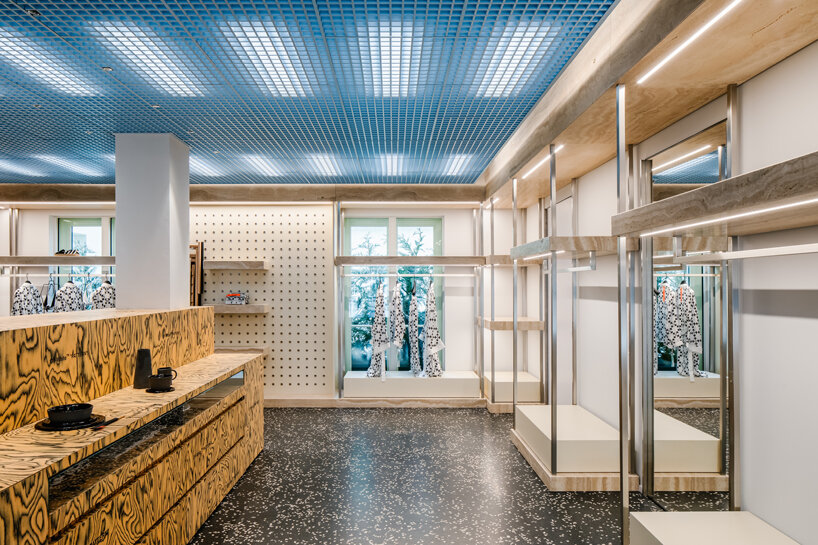 image by benoit florençon, courtesy OMA
on the third floor is the men's collection. this bright airy space benefits from high ceilings and large windows, meaning it can be reconfigured for concerts, art shows, and parties. a foldable box finished with sottsass-red veneer conceals the bar and the back of house. the floor accommodates freestanding display elements designed by AMO — metallic clothing racks, wooden tables and white travertine shelving systems — echoing flea markets found in the city. contrasting combinations of textures and colors emphasize the store's eclectic style, creating an abstract reinterpretation of paris.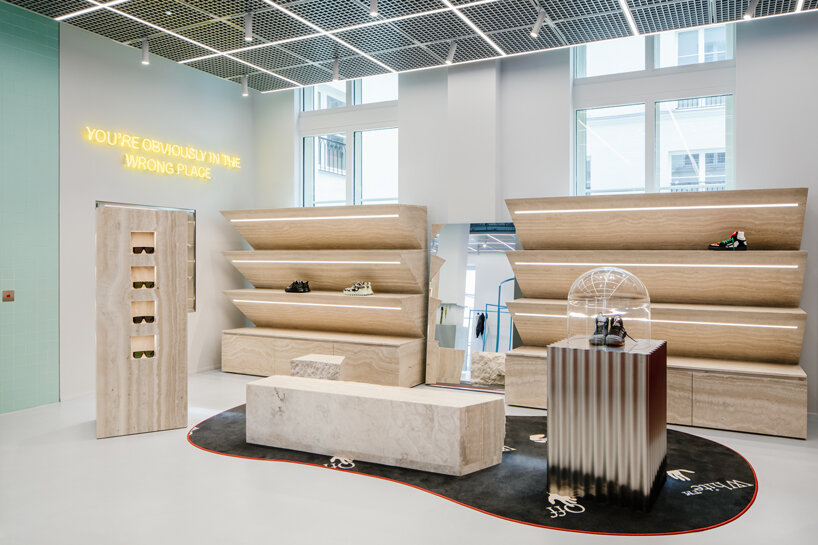 image by benoit florençon, courtesy OMA
led by ellen van loon led the design together with samir bantal and giulio margheri, the design of off-white paris explores new ways in which architecture facilitates the interaction between fashion collections and the public. 'where does streetwear end and high fashion begin? over twenty years ago, sarah andelman's colette was the predecessor of modern experiential retail, one of the first concept stores where streetstyle met luxury. fast forward to 2021, a couple of blocks away from where colette sat, the new off-white store in paris represents the brand's multifaceted identity as a cultural channel broadcasting style, media and fashion, humbly saluting colette and drawing from its irreplaceable legacy,'  say ellen van loon and samir bantal.
off-white paris marks the second store designed by AMO for the brand. see designboom's coverage of the AMO-designed miami flagship here.