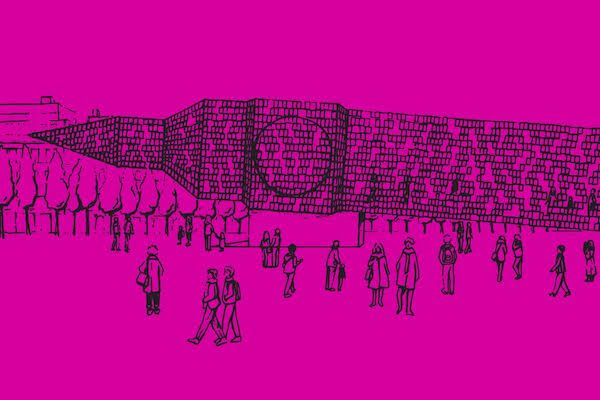 Image via Manchester International Festival
Argentinian artist Marta Minujín's 138-foot sculpture of Big Ben has appeared in Manchester in time for the city's annual international arts festival.
Big Ben Lying Down with Political Books is accompanied by a short video, screened inside the replica's chamber, of the iconic London landmark blasting off from its site in Westminster and heading north of the country.
The Manchester International Festival, running from July 1 through 18 this year, was started in 2007 as a means to present new work from artists with practices situated across the creative spectrum. Based in the northwest of England, in the artistic heart of Greater Manchester, the festival spans venues such as theaters, galleries, and outdoor spaces like the city center's Piccadilly Gardens, where the replica Big Ben is currently located.
Due to travel restrictions, Minujín was not in Manchester to direct the sculpture's installation, conducting it primarily through Zoom instead. She stated that she hoped the work could "inspire new conversations about what we value," a sentiment reiterated by festival director John McGrath, who addresses the work as "in some ways a response to the tussles and battles between Manchester and London, north and south, over the last year."

The installation, made out of 20,000 books that have influenced British politics, will be taken apart on the last three days of the festival (July 16-18) during a Book Redistribution Ceremony, where visitors will be able to take one of the books away with them for free.
"People need this! We need new ideas and new places where people meet," details the artist. "Global symbols like Big Ben stand up straight and never change – but the world is always changing."
[via BBC, image via Manchester International Festival]