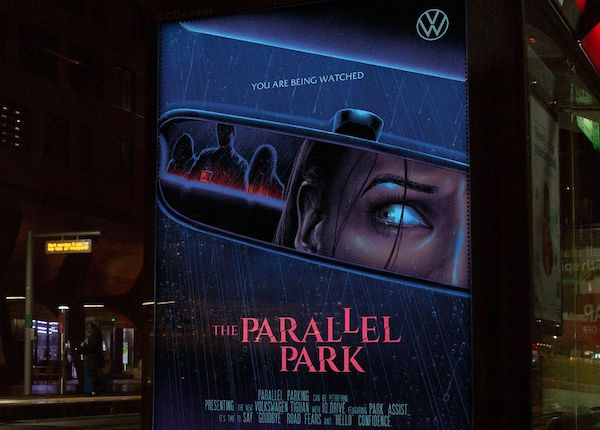 Artwork by Matt Ryan Tobin, image via DDB Sydney
With front-row seats to driving uncertainties, a quick trip to the store can turn into a highway to hell.
Illustrating some of the most bone-chilling fears on the road, Volkswagen Australia and communications agency DDB Sydney have created a set of posters that slasher movie posters centered around parallel parking, merging into a highway, the hesitation at roundabouts, and abrupt brakings. The imagery was created by Canadian movie poster artist Matt Ryan Tobin, who has worked with filmmaking hotshots like Disney, Marvel Studios, Paramount Pictures, and Warner Bros.
These situations are arguably more terrifying for some drivers than sitting through a horror movie, since they are living the experience themselves. In fact, DDB Sydney describes that 79% of Australians have some sort of unease relating to driving, with the most common fear apparently being parallel parking.
Rather than spook drivers out with anxieties they already face, the posters are meant to showcase Volkswagen Tiguan's confidence-boosting IQ DRIVE driver assistance features, such as Front Assist, Pedestrian Monitoring, and Lane Assist.
The cinematic campaign is accompanied, quite suitably, by an eerie film directed by Bruce Hunt of production company Revolver.
Work of the week 💥 Volkswagen tackles Aussie road fears with horror-movie style print campaign via @DDBAustralia https://t.co/UdzA2G62Ni pic.twitter.com/qd5IZtT9Er

— DDB Worldwide (@DDB_Worldwide) June 29, 2021
[via The Drum, video and images via DDB Sydney]