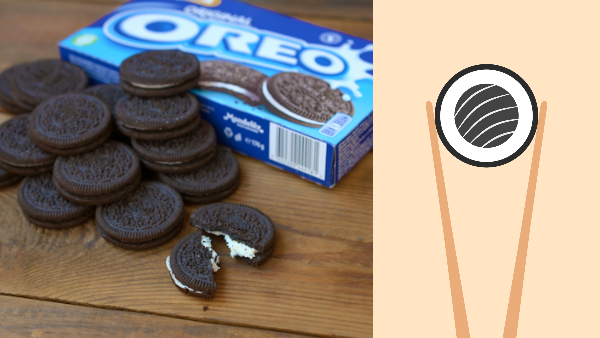 Images via Shutterstock and Mehaniq / Shutterstock.com
For its profound simplicity, there are so many ways to enjoy an Oreo, but here's one more. The new favorite way of the TikTok community to eat these chocolate wafer cookies is by turning them into what has been affectionately termed "sushi."
Yes, 'Oreo sushi' is a thing right now—and it looks like a maki roll, but there's no rice nor seaweed involved. Making up for those colors are the cookie and cream components of an Oreo, plus just one more ingredient: its significant other, milk.
A new string of videos explains how to make this no-bake dessert.
First, remove the cream filling and set them aside in a bowl, then crush up your cookies in a resealable bag until they turn into fine crumbs.
Transfer the cookie crumbs in another bowl, and combine it with your milk of choice until it all comes together into a thick paste.
Now, take a sushi mat or a sheet of plastic wrap and evenly spread the paste all over it. Top it with the oreo cream filling, and then roll it up. Slice the roll into sushi-sized pieces, and enjoy.
As your "soy sauce," you could dip the dessert sushi in chocolate sauce for a sweet, indulgent take on the beloved dish.
[via Taste of Home, cover image via Shutterstock and Mehaniq / Shutterstock.com]