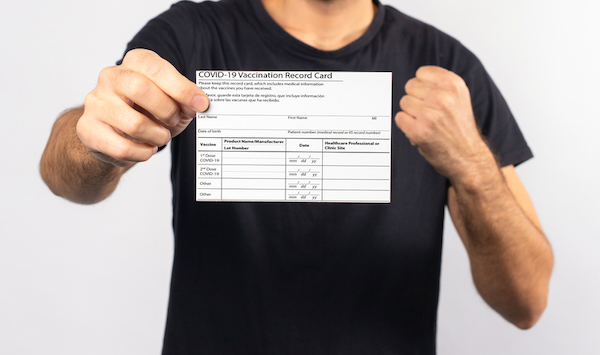 Image via Shutterstock
As you might have observed at the dawn of the pandemic, some people would jump through hoops to circumvent COVID-19 precautions. Now that vaccinations have been added to the list of safety measures, consumers are thinking a little too creatively to avoid their jabs.
It thus comes as little surprise that counterfeit COVID-19 vaccine cards have made their way onto online retail platforms like eBay and Amazon. A listing found on Amazon, for instance, was for a pack of 10 blank cards that buyers could use to forge vaccination records.
Sold for US$12.99, the cards were advertised as suitable for "Meetings, Senior Centers, Reunions, Festivals, Retreats, Office, Family and School Reunions, Store Tags, etc.," inadvertently leaving unwitting peers at risk if they got close to someone infected with the coronavirus.
Insider contacted Amazon about the listing, and it has since been taken down.
"We do not allow the products in question in our store," a spokesperson for Amazon told the media outlet. The website said it has also "taken action on the bad actors" behind the listing.
The FBI has cautioned that circulating fraudulent vaccine cards is against the law. "The unauthorized use of an official government agency's seal [such as HHS or the Centers for Disease Control and Prevention (CDC)] is a crime and may be punishable under Title 18 United States Code, Section 1017, and other applicable laws," it warned in March.
Now Amazon is selling counterfeit COVID-19 vaccination cards https://t.co/GgqaopXqyy pic.twitter.com/B9mcHhao4f

— Olivia Little (@OliviaLittle) June 7, 2021
[via Insider, image via Shutterstock]