In this video, I talk about why "not feeling safe" is a big issue in auto-immune disease – as well as why you will likely not experience full healing until you address the trauma and wounds in the very cells of your body and release them.
I also outline how the body IS the subconscious and offer a roadmap for healing the emotional and spiritual components of illness.
AFTER you've watched the video, read this article for a fascinating account of what this kind of mind/body healing looks like in action – with a real person.
Enjoy! And post any questions below…
p.s. For the BEST mind/body/spirit healing tool I've ever used, check out my Lazer Tapping course and try out a free session for yourself – see why I love it so much!
---
Original post December 2014. Most recently updated July 2020.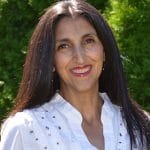 Jini Patel Thompson is an internationally recognized expert on natural healing for digestive diseases. She healed herself from widespread Crohn's Disease and has remained drug and surgery-free for over 20 years. Jini has appeared on numerous podcast, TV, and radio shows throughout the U.S., U.K., Canada, and Australia, giving people hope and vision for how they can heal their Colitis, Crohn's, Diverticulitis and Irritable Bowel Syndrome (IBS), using entirely natural methods. Her books on natural healing for digestive diseases have sold worldwide in over 80 countries.