I'm about to turn a year older (on June 2nd). And, this time, I'm actually wiser! I learned that 800 million people on this planet still don't have access to clean drinking water, and I'm doing something about it.
This year, I'm giving up my birthday for charity: water. When I saw the video of the parasites, bacteria and viruses living in people's water and watched the little girl drinking and vomiting, drinking and vomiting (because she was so thirsty and there was nothing else) – it truly broke my heart.
Instead of giving me presents, or writing on my Facebook wall, I'm asking all my friends and family to please donate WATER for my birthday, and help me bring clean water to suffering children.
Go to my campaign to donate: http://mycharitywater.org/give-jini-water-for-her-birthday
What's really cool is that 100% of the money we raise will directly fund water project costs in the field, and charity: water will prove every single dollar (they don't spend it on admin costs!). When the project we help fund is complete, they'll send us a digital completion report with GPS coordinates and photos of the community we helped. Here's an example.
I can't think of a better way to celebrate my birthday than by giving the gift of clean water to people in need.
I've kicked off the birthday celebrations by gifting myself $45 – a buck for every year!
Please join me and ANY amount you can afford to give is AWESOME
ALL GIFTS ARE TAX DEDUCTIBLE!
P.S. Read this story from charity: water to learn how clean water changes lives.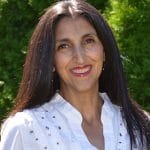 Jini Patel Thompson is an internationally recognized expert on natural healing for digestive diseases. She healed herself from widespread Crohn's Disease and has remained drug and surgery-free for over 20 years. Jini has appeared on numerous podcast, TV, and radio shows throughout the U.S., U.K., Canada, and Australia, giving people hope and vision for how they can heal their Colitis, Crohn's, Diverticulitis and Irritable Bowel Syndrome (IBS), using entirely natural methods. Her books on natural healing for digestive diseases have sold worldwide in over 80 countries.